Hostile Work Environment Illinois Attorney
Have you ever experienced a pattern of intimidation, harassment, or discrimination on the job? You may have an employment discrimination claim for a hostile work environment. The Mahoney Law Firm is committed to seeking justice for employees who have experienced hostile work environments in Illinois. Illinois hostile work environment lawyer Ryan Mahoney brings more than 16 years of experience in holding employers accountable and getting compensation for clients.
Add a header to begin generating the table of contents
As an employee, you have the right to a workplace free from discrimination and harassment. Both Illinois and federal law protect you against discrimination based on certain protected categories.
In Illinois, a hostile work environment involves a pattern of discriminatory or harassing behavior that makes it hard for you to do your job. If you're experiencing a hostile work environment, you can take legal action to protect your rights. You can also seek compensation, damages, and reinstatement if appropriate.
At the Mahoney Law Firm in Glen Carbon, Illinois, we help employees take a stand against hostile work environments. Award-winning employment attorney Ryan Mahoney brings more than 16 years of experience handling employment cases. He understands the law, the courts, and the state and federal agencies that address hostile work environment claims. He is a passionate and effective advocate for workers who have been wronged.
When you work with the Mahoney Law Firm, you can trust your case is in good hands. We will put your interests first. We have won significant compensation for employees from all walks of life.
How the Mahoney Law Firm Helps Employees in Hostile Work Environment Cases
If you think you're experiencing a hostile environment at work, contact us for help. We can counsel you about your options and represent you throughout the legal process if you decide to pursue a claim. 
Illinois hostile work environment lawyer Ryan Mahoney knows how challenging and stressful it is to endure hostile work conditions. He will listen to you and take your concerns seriously. You will work one-on-one with him, benefitting directly from his knowledge in this area of law. You can turn to him to answer all your questions regarding Illinois employment law and hostile work environments.
We can:
Investigate your case, gathering the right evidence to ensure a strong foundation for a successful outcome
Evaluate your options for filing a claim and initiate your claim with the appropriate government agency
Enlist specialists to support your case if necessary
Negotiate with your employer to secure a favorable settlement when possible
File a lawsuit in state or federal court after obtaining a "Notice of Right to Sue" letter
Represent you at trial if your case doesn't settle
Pursue all available damages

to compensate you for the injustice you've endured
Your Legal Options in Illinois Regarding Hostile Work Environments
The law gives employees important rights when they have experienced a hostile work environment. Learn more about your rights and potential legal options.
What constitutes a hostile work environment in Illinois?
A hostile work environment involves a severe or pervasive pattern of unwelcome conduct rooted in discrimination or harassment. The perpetrators might be your supervisor, coworker, or both. Examples include:
Ongoing harassment
Jokes, teasing, mockery, or uncomfortable comments
Racial slurs or remarks targeting gender or sexual orientation
Unwanted touching
Unwanted sexual advances
Threats or intimidation
Inappropriate posters, emails, texts, or other content
If any of these behaviors affect your work performance or make you uncomfortable, scared, intimidated, or stressed out, you are probably experiencing a hostile work environment.
Illinois Hostile Work Environment Laws
Understanding Your Options for Dealing with a Hostile Work Environment
You have several options for putting a stop to the behavior. Initially, you might consider:
Filing an internal complaint with human resources
Hiring a lawyer to send a cease-and-desist letter to your employer
If those options don't work or are not likely to work, you can take legal action by:
Step one is to consult with an employment attorney. Ryan Mahoney can advise you on the best strategy for your unique situation.
Why Entrust Your Case to a Firm That Focuses on Hostile Work Environment Cases
Employment law is complicated. Hostile work environment cases can be particularly challenging. They require a thorough understanding of the applicable statutes and case law. It is in your best interests to choose a law firm with extensive experience handling such cases in Illinois.
Lawyer Ryan Mahoney has the experience you need. His reputation as a powerful advocate for employee rights gives him an advantage in dealing with employers. He is known for his determination and perseverance in protecting workers' rights.
The Benefits of Seeking Representation
By getting legal help, you can:
Put a stop to the illegal behavior
Find out if you have a legal claim
Pursue a claim for compensation and damages
Who Can Be Held Responsible for a Hostile Work Environment?
Victims of harassment can pursue a claim against their harassers over creating a hostile work environment. 
In addition, employers can be held liable for the harassing conduct of supervisors. They can also be held responsible for harassment by non-supervisory employees if they knew of the conduct but failed to take reasonable steps to remedy it.
How Do I Prove a Hostile Work Environment in Illinois?
Proving a hostile work environment requires showing that the offending behavior is severe or pervasive enough to cause a reasonable person to feel intimidated, threatened, scared, or uncomfortable. 
A hostile work environment typically involves a long-term pattern of conduct or series of incidents that, taken together, constitute an intimidating atmosphere. Isolated incidents and scattered remarks are usually not sufficient to sustain a claim.  
Evidence of a hostile work environment might include:
Emails
Voicemails
Text messages
Photos
Videos
Testimony
Your testimony and that of others who witnessed or experienced the same treatment can play a pivotal role in proving your case.
How Do I Sue an Employer for a Hostile Work Environment?
Before filing a lawsuit, you must first file a complaint with either the Illinois Department of Human Rights or the Equal Employment Opportunity Commission. The agency that you file with will then conduct an investigation. 
Once the investigation is complete, the agency will issue you a "Notice of Right to Sue" letter that allows you to file a lawsuit against your employer in state or federal court. In some cases, you can request that letter sooner. Once you receive it, you will have 90 days to file a lawsuit.
Attorney Ryan Mahoney understands the many procedural considerations involved in lawsuits for hostile work environments. He can guide you through each step in the process, presenting strong evidence and arguments to help your case succeed.
How Much Can I Get for a Hostile Work Environment Lawsuit?
It's hard to say exactly how much a hostile work environment case is worth. You could get compensation for any expenses you incurred as a result of the hostile work environment, including:
Backpay
Missed work
Lost benefits
Attorney's fees
You can pursue compensation for your emotional distress and the strain and humiliation you endured. In certain situations, you may also be entitled to significant punitive damages, a financial award meant to deter other employers from breaking the law.
Lawyer Ryan Mahoney can give you an idea of what to expect regarding compensation for your case.
Find Out if You Have a Legal Claim for a Hostile Work Environment in Illinois
Nobody should have to put up with a toxic work environment. If you are experiencing a hostile work environment in Illinois, don't hesitate to seek legal representation and support from the Mahoney Law Firm. Our experienced attorneys are dedicated to helping employees in Illinois who have suffered from discrimination and harassment in the workplace.
Contact us today at 618-822-2833 to schedule a consultation and learn how we can help you protect your rights and seek justice for the harm you have suffered.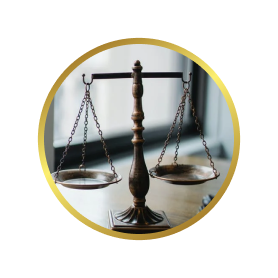 There for you when you need it most.