Illinois Age Discrimination Lawyer
Speak with an experienced employment law attorney if you believe that you've been the victim of age discrimination in the Workplace in Illinois. You may be able to force your employer to do the right thing and recover compensation in the process.
Add a header to begin generating the table of contents
Do you believe that you've been the victim of age discrimination in the workplace in Illinois? Contact an experienced Illinois age discrimination lawyer at the Mahoney Law Firm for legal guidance. You may have the right to file an employment claim against your employer, and our law firm can help you achieve the results you deserve.
For more than 16 years, attorney Ryan Mahoney has been a passionate advocate for aggrieved workers throughout the state of Illinois and across the country. He understands how difficult it can be for workers to stand up to employers, corporations, and other powerful adversaries. He's dedicated to giving victims of discrimination a level playing field and providing every opportunity to achieve justice.
Contact our law office, conveniently located in the Edwardsville, IL area, to arrange a time to discuss the details of your age discrimination case. Your first consultation is free, so reach out to our team for help today.
What is Age Discrimination?
Age discrimination refers to adverse actions that are taken against an employee or job applicant based on the person's age.
Discrimination on the basis of age can be direct or indirect. For instance, an employer may take adverse action because of a specific employee's age (direct discrimination) or implement company policies or practices that have an adverse effect on older employees (indirect discrimination).
Some examples of age discrimination include:
Workers must be at least 40 years old for state and federal age discrimination protection laws to apply.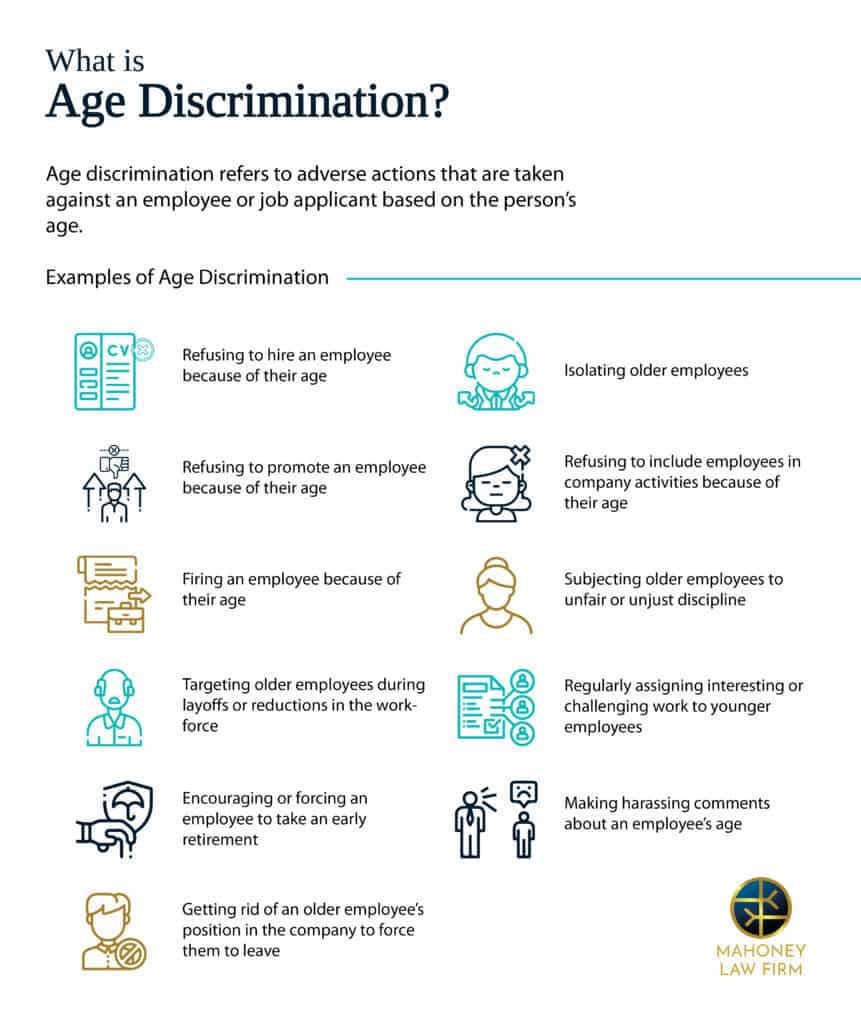 What Laws Protect Me Against Age Discrimination in the Workplace?
Workers in Illinois have two levels of protection against age discrimination at work: Illinois state law and federal anti-discrimination law.
The Illinois Human Rights Act (IHRA) protects employees from being the victim of age discrimination at work.
Under the law, employers – both public and private – are prohibited from taking adverse employment actions against an employee because they are age 40 or older. Employers are also prohibited from discriminating against job applicants on the basis of age.
The Age Discrimination in Employment Act of 1967 (ADEA) is a federal employment law that protects workers throughout the United States " on the basis of age in hiring, promotion, discharge, compensation, or terms, conditions or privileges of employment." This applies to employers with 20 or more employees.
At their core, the ADEA and IHRA provide the same protection: employers in the state of Illinois cannot discriminate, harass, or take adverse employment action against an employee or applicant because they are 40 years or older.
The ADEA takes things a step further, and protects workers from a denial of benefits. The Older Workers Benefit Protection Act (OWBPA), which amended the ADEA, prohibits employers from denying work-related benefits to employees over the age of 39.
How Can an Illinois Employment Lawyer Help Me if I've Been the Victim of Age Discrimination?
It may be clear as day to you that you've been discriminated against at work because of your age. However, how can you prove it? What do you need to prove it in a court of law? What happens when your employer starts to bring up a million reasons to justify their actions – but you know they're not the real reason why you were fired, terminated, or otherwise discriminated against?
Employment law is complicated. While you may have legal protections under Illinois state and federal law, it can be difficult to assert them and achieve a favorable outcome in an employment discrimination case. One of the best things you can do is put an experienced advocate in your corner.
Ryan Mahoney is an experienced Illinois age discrimination lawyer with over 16 years of experience fighting for aggrieved workers like you. He understands what you're up against and that you deserve the opportunity to make things right.
He's ready to help you by:
Attorney Mahoney is licensed in the states of Illinois, Missouri, and Minnesota and is admitted to handle cases before the United States District Courts for the Northern and Southern Districts of Illinois and Eastern District of Missouri.
Whether you're bringing an age discrimination claim under Illinois state or federal employment law, the legal team at the Mahoney Law Firm will be prepared to help you achieve justice.
What Damages Can I Get In an Illinois Age Discrimination Case?
The damages that can be awarded in your age discrimination case will depend on whether you're filing a claim under the ADEA or the IHRA.
Under the ADEA, you may be entitled to recover damages for:
Under the IHRA, you may be entitled to recover all of the damages for:
Attorney's fees and equitable relief can also be awarded under both employment laws. Equitable damages force your employer to take some kind of action to make things right. This might involve hiring you for a position that you didn't get or giving you a promotion if you were turned down because of your age.
Your employment lawyer in Illinois will help you identify all available paths to a fair financial recovery and equitable justice.
Speak With an Experienced Employment Attorney About Age Discrimination in the Workplace in Illinois
If you suspect that you've been fired, passed over for a promotion, or otherwise discriminated against because of your age, you may be entitled to compensation. Be sure to document the discriminatory conduct and gather any pieces of evidence that might support your allegations.
Then contact the Mahoney Law Firm and discuss your legal rights and options with an experienced Illinois age discrimination lawyer. Our law office provides a free consultation, so don't hesitate to give us a call or reach out to us online to schedule yours today.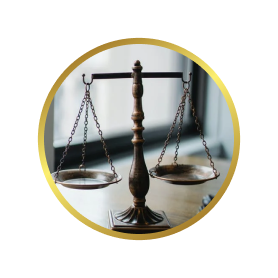 There for you when you need it most.